This Quiz Will Decide Whether Stefan Or Damon Salvatore Is Your Perfect Match
Welcome to the ultimate quiz that will determine if your heart beats in tune with Stefan or Damon Salvatore! If you've ever found yourself caught in the irresistible allure of these charismatic vampire brothers from the hit TV series "The Vampire Diaries," then this is the moment of truth you've been waiting for. Are you drawn to Stefan's brooding yet compassionate nature, or do you find yourself irresistibly enticed by Damon's unpredictable and passionate persona? Discover your perfect match as you embark on a journey through captivating questions designed to unravel the depths of your desires and preferences. Get ready to delve into the supernatural world of Mystic Falls, as the fate of your romantic destiny awaits! Scroll down and click the Start button to find out if you're destined for eternal love with Stefan or Damon!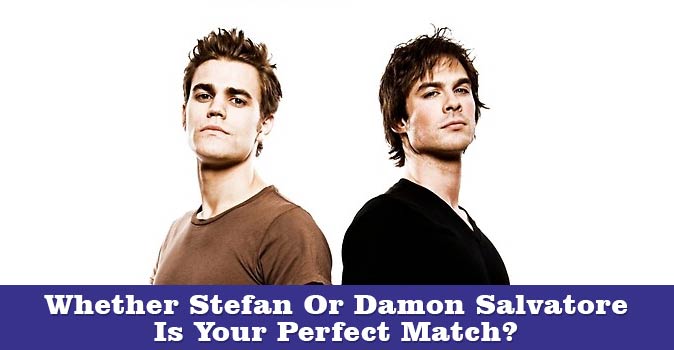 About The Vampire Diaries in a few words:
"The Vampire Diaries" is an enthralling TV series that delves into the supernatural world of vampires, witches, and werewolves. Set in the mysterious town of Mystic Falls, the show revolves around the lives of two vampire brothers, Stefan and Damon Salvatore, as they navigate love, friendship, and the eternal struggle between good and evil. The series seamlessly weaves together elements of romance, drama, and suspense, captivating viewers with its intricate plot twists and compelling character development. Filled with heart-pounding action, intense emotions, and a love triangle that keeps audiences on the edge of their seats, "The Vampire Diaries" is a must-watch for fans of supernatural stories and epic romances.
How it works:
We will ask 20 questions about you.
There are many possible answers, you must choose only one.
Answer all questions and find out Stefan or Damon Salvatore is your perfect match!